In a world of big-box retailers and online shopping with discount shipping wars, locally owned businesses are being squeezed out of our communities, therefore losing in essence the very meaning of community.
Sure, big-box stores can be convenient, perhaps cheaper at times. But can they really replace the individual customer care and good feeling you get when you buy local?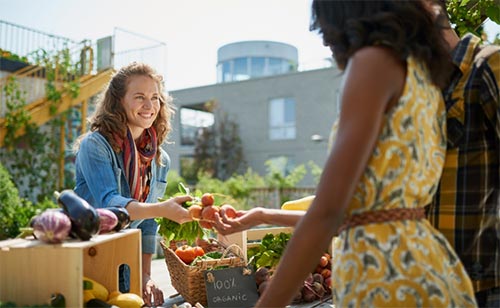 The American Independent Business Alliance gives very diverse reasons why people should support local entrepreneurs and businesses – everything from increasing the wealth of residents to lowering taxes and sustaining the environment – all of which are incredibly valid.  Their survival is dependent on locals' patronage.
Buying local, you know who you are buying from; often times are on a first name basis with store owners.
When you buy from local farmers, you have the benefit of knowing where your food comes from, what pesticides may or may not have been used, and what animal products are cage-free, grass fed, etc.
Buying local keeps the money in the community and incents business owners to take care of one another.
Big-chain businesses will spin their presence in communities as job makers, when in reality, bringing in big chains often displaces just as many jobs as it creates.
There are coalitions springing up all over the country to rally around small businesses and secure the unique characteristics within our various communities. Local business owners, charitable organizations and regular citizens come together to ensure their survival.
And when push comes to shove, it just feels good to buy local.